Young scientists from ESS Scandinavia-CZ have a prestigious publication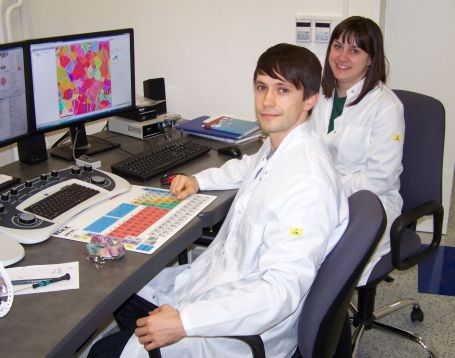 The work of the ESS Scandinavia-CZ project involves several young scientists and Ph.D. students in the team of Dr. Kristian Máthis.
Two of them, Klaudia Horváth and Gergely Farkas, are co-signed with K. Máthis under the article summarizing part of the results of their research, published in the February issue of the prestigious international professional journal Materials (Materials 2018, 11, 200, Impact Factor 2,654) and available in Open Access mode (doi:10.3390/ma11020200).
Paper with title Investigation of the Microstructure Evolution and Deformation Mechanisms of a Mg-Zn-Zr-RE Twin-Roll-Cast Magnesium Sheet by In-Situ Experimental Techniques describes the effect of the TRC (Twin roll casting) method and the subsequent heat treatment on the alloy deformed at room temperature using the in-situ neutron diffraction and acoustic emission techniques and ex-situ texture measurement and microscopy, respectively. TRC, with a relatively fast solidification rate, is an excellent production method with promising potential for producing wrought semi or final Mg alloy products that can often suffer from poor formability.
---
Other co-authors of the article are South Korean scientists Heeman Choe and Kwang Seon Shin and, last but not least, Alexei Vinogradov, who works at universities in Togliatti, Russia, and Trondheim, Norway.
The research of ESS Scandinavia-CZ team is continuing, so we will probably soon see other publications. Work of another team member, Gergely Németh, use Conform ECAP method for preparing of titanium alloys, which makes it possible to reduce the titanium grain to 400-600 nm, several times less than usual size, which positively affects the strength of the resultant alloys.