Tandetron
Lineární urychlovač Tandetron (v České republice jedinečný) umožňuje zásadní pokrok ve vývoji současných analytických možností a nasazení nových metod úpravy materiálů i syntézu pokročilých materiálů a struktur. To otevírá nové příležitosti základnímu a aplikačního výzkumu v jaderné fyzice a radiační biochemii.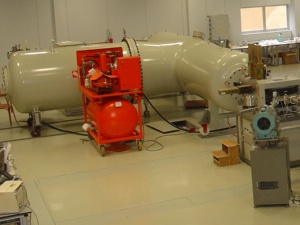 Instalace nového urychlovače nám umožňuje vyvinout inovativní analytické metody a posílit náš výzkum zejména v oborech materiálového inženýrství, radiobiologie a interakce nabitých částic s okolím. Ve výchozím nastavení je laboratoř vybavena také zařízením pro nanášení tenkých vrstev a pro pozorování fyzikálně-chemických procesů in-situ v povrchových vrstvách materiálů. Máme v úmyslu spolupracovat se stávajícími i novými partnery, schopnými mimo jiné zajistit přípravu materiálů a struktur pomocí speciálních metod, které v ÚJF nemáme k dispozici a vhodně doplňují naše vlastní metody.
Construction of new Tandetron hall and installation of Tandetron - photos.
Original invitation to inauguration (PDF in CZ)